About the Sonoma County VegFest
The 4th Annual Sonoma County VegFest is produced by Compassionate Living, a Sonoma County non-profit and community of people from all walks of life who are striving to live by shared values of kindness towards animals, healthy living and respect for the earth. We feel incredibly lucky to live in the North San Francisco Bay Area, an area with an abundance of nutritional experts, farmer's markets and stores with healthy and compassionate choices. We offer the Sonoma County VegFest to come together in celebration of this abundance and give thanks for all that the North San Francisco Bay Area has to offer.
Vending- If you are interested in being a vendor for the 2017 Sonoma County VegFest, please e-mail Hope: hope@socoveg.org

Kids under 13 are admitted free of charge- All children under 13 are free. Bring the whole family!

Free Parking- The Luther Burbank Center for the Arts has LOTS of free parking! Woo-Hoo!
Animal Policy- The Luther Burbank Center for the Arts is a service animal only venue. Please keep your dogs (and turtles, rabbits, snakes, etc.) home. Thank you.
SoCo VegFest Eco-Policy- The Sonoma County VegFest is an Earth-Friendly Event. We always keep consideration for the planet forefront in our minds and strive to reduce our impact in organizing and executing our event. We require all vendors to use only compostable materials and will offer compost bins throughout the venue. We strive to be a zero waste event and you can help by bringing your own travel mug, bowls, flatware, cloth napkin, etc. Come prepared and reduce the waste generated at the event. Thank you for being part of the solution and for caring about the Earth and her animals.
 Come join us as we share, learn, grow, eat and enjoy!
In Memoriam to Brad Larsen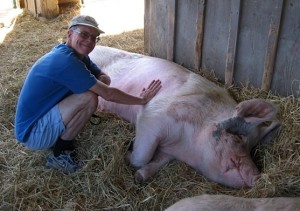 The Sonoma County VegFest is dedicated to Brad Larsen. Brad was a founding member of Compassionate Living in 2008 and he was a dedicated and active core member until his passing in April of 2013. One of his dreams for Compassionate Living was to host a VegFest in Sonoma County. At Brad's request, an outpouring of donations to Compassionate Living made the first VegFest in 2014 possible.
Compassionate Living is so excited to bring the first 100% plant-based VegFest to Sonoma County in Brad's honor. Thank you Brad, for helping us realize this festival and for all you've done for the animals, for Compassionate Living and for all people who seek to live a more kind, meaningful, healthy and sustainable life. We love and miss you!!!